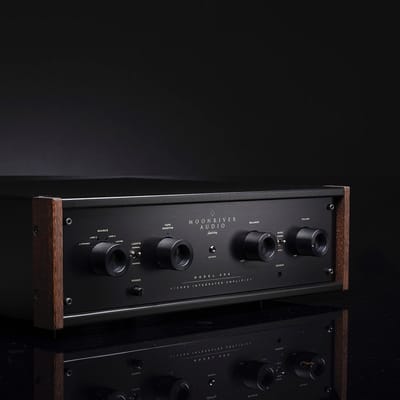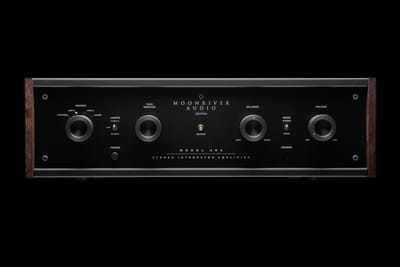 Moonriver AudioThe 404 integrated amplifier - 16 900 ₪ / 404 integrated amplifier Reference - 21 400 ₪

Inspired by the famous song, Moonriver Audio is a combination of the vintage and the contemporary in audio reproduction.
Classic, timeless, user oriented design. Organic texture acquired within an open space, dynamic behavior unrestrained while preserving natural color, provisions made for modular upgrades and direct access to all functions.
Moonriver loves vinyl records, analog tapes, compact discs and digital streams and features upgradable modules for all those formats. We employ every technology available today, without staying dogmatically exclusive to one design principle versus another, be it solid state, integrated circuit or vacuum tube.
We are fond of hybrid designs that fuse well known and fresh tech elements, but, most of all, that fit the application.
Made in Sweden

Our products are designed and made in Sweden. We hand-assemble each unit, a painstaking but precise procedure. Through a global inventory that is constantly updated, it is our sophisticated research, efficient development and extensive listening tests -the fun part- that lead us to select the right component for a no-compromise audiophile sound.
We also care for sustainability as well as for reliability. Moonriver products are covered by a 3-year warranty and are designed to last for decades without any need of maintenance.
Optional Phono Stage - 2 500 ₪

Model 404 comes with two options in the phono stage department; one is MM only and the other is MM/MC selectable. Both follow the exact quality principles that Model 404 is built on. Quality components and massive power supplies are also employed here, to efficiently accommodate very low noise, high performance op-amps.
Optional USB DAC - 3 000 ₪

What was desired for our USB DAC module was not to make an addition rather than an omission; instead we had to be confident of substantially raising the true value and functionality of Model 404.
Some key features; state-of-the-art XMOS USB asynchronous interface; AKM 4490 DAC chip; separate high-precision clocks for the 44,1K and the 48K sample rate group respectively; supports PCM streams up to 384kHz. USB, D/A and analog out section each one fed by its own dedicated power supply.
We work hard to get the best possible sound performance and we believe that this USB DAC is a enormous added value to the Model 404 amplifier.
Specifications
Inputs: 5 (line 1 and 4 optionally occupied by phono stage and USB DAC respectively, 1 x tape loop)
Outputs: 2 x preamp out, 1 x rec out
Power output: 50 W per channel into 8 Ω
Frequency response: 10 Hz to 50 kHz
Total harmonic distortion: 0.05%
Signal to noise ratio: 95 dB (line)
Dimensions (mm): 430 (W) x 390 (D) x 135 (H)
Weight: 12 kg
​
Moonriver Audio website
​​​